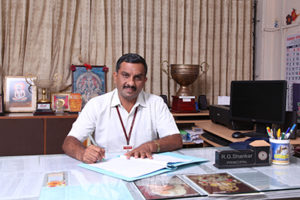 न चोर हार्यं न च राज हार्यं न भात्रू भाज्यं न च भारकारि l व्ययं कृते वर्धत एव नित्यं विद्याधनं सर्वधनप्रधानम ll
No one can steal it, not authority can snatch, Not divided in brothers, not heavy to carry, As you consume or spend, it increases; as you share, it expands Education (Vidhya) is the best wealth among all the wealth anyone can have.
We in Bharatiya Vidya Bhavan believe that the approach in motivating and getting the best out of the children is based on the positive reinforcement of good work and good behaviour with a philosophy which centres on praise, encouragement, enthusiasm, fun and affection rather than criticism, fear and punishment. Nevertheless, nothing worthwhile can be achieved without a sense of discipline and thus our students will be expected to conform to high disciplinary standards and to cherish the values of tolerance, fair play, compassion, and independent thinking.
Bhavan's atmosphere is very conducive to nurture and nourish the children's intrinsic capabilities. The team of our devoted teachers works from dawn to dusk balancing their style of teaching which caters to the need of both gifted children as well as slow learners. . The students have put their consistent efforts in their studies. As an outcome of such sincere and combined efforts, our students' outstanding performance won laurels and accolades for the school.
There have been times in all our lives when we didn't know from where our tomorrow would come. So often, when we were facing the wall, some angel in human form pushed us, inspired us, dragged us, led us and showed us the way. There were times when we didn't trust our own abilities; the words of encouragement from some human soul propelled us forward.
We dream every day. Every dream may not come true. We should not stop dreaming just because one of our dreams shattered. We must be sportive enough. We must understand the fact that some dreams shatter to give way to a new one. Never stop dreaming. Never stop running behind the dreams. Make a boat of a new dream every day. Run along with it. If one boat sinks, the other one will reach the destination. Let the game never end.
With the guidance and support of our esteemed Chairman Shri.B.K.Krishnaraj Vanavarayar the school has been able to scale the heights of success.
As in the previous year, this year also, students have profusely contributed articles for the school magazine, with great enthusiasm.
My congratulations to the editorial board for bringing out yet another volume showcasing the activities of the school!
Jai Hind!
Mr.R.G.Shankar
Principal