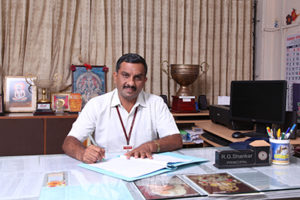 Bhavan's educational philosophy is to create children who are confident, compassionate, caring and competent and those who are capable of creating their own destiny, not just passively following the footsteps of others.
In the voyage of the discovery of excellence in education, and in the endeavour of keeping the values – Love, Peace, Truth, Non- violence and Right conduct alive, in our word and action continues.
To quote Mahatma Gandhi:
   "In a gentle way you can shake the world."
Much has been spoken about the need to attend and to cater to the "character and value".  Development of the self along with academic achievement forms the nucleus of all learning processes at our school.
Vision determines directions of effort and prioritizing deployment of resources at our disposal, and our vision is to make our school one of the best schools of our city by providing 360 degree education to our students through best in academic facilities and churn out citizens who are inspiring leaders with a humane touch.
Excellence in academics is the hallmark of a good institution and the class X and XII results of the school prove without an iota of doubt that our students continue to make us proud.
Strenuous exercise and interest in games is an outlet for the vigour of youth. Ample opportunities are been provided to our children to prove their mettle in various sports and games at school, cluster, regional and national level competitions.
I avail this opportunity to express a heartfelt thanks to our Chairman of our school Shri.B.K.Krishnaraj Vanavarayar for his trust in our hard work and self reliance, which boosts our efforts to make our school one of the best schools in Coimbatore.
Jai Hind!
Shri.R.G.Shankar
Principal