Principal's Message
Home
/ Principal's Message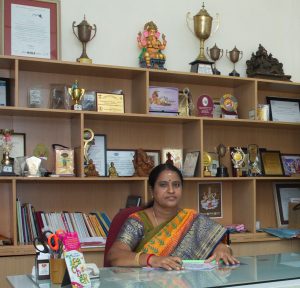 The education one obtains should be useful not only to him but also to the society he belongs to educating the mind without educating the heart is no education at all ". Our main motto is to provide qualitative education. Our practice of teaching and learning is child-centric which facilitates holistic education.  We enable them to bring out their best in a progressive and competitive environment in every field be it Academics, Sports, or co-curricular activities.
Our school curriculum with Human excellence will give a strong foundation and confidence to face the challenges. They acquire remarkable traits such as social skills, behavioral etiquette, work ethics, team spirit, and a sense of achievement. We give them cheerful learning through our effectual infrastructure and other resources like innovative teaching with modern teaching aids, facilities for students, and a comfortable environment with efficient faculty. We always aim to empower every student to evolve as a  curious learner, critical thinker, and courageous member of an ever-changing competitive society.
We are constantly improving our teaching methodology so that it turns learning into a combination of classroom study, research, and scientific discovery. We are determined to motivate our students to bloom as great leaders, responsible citizens, and valuable assets to society. Our Chairman Shri. B.K. Krishnaraj Vanavarayar emphasizes man-making education that will facilitate students' achievements. *True leaders don't create followers…..they create more leaders*. The constant support and guidance of our management provide us with the confidence to do our fairest.
Consistent support from parents is the most strengthening power which enables us to mold the future of children. We pay gratitude to all the parents for showing their continuous faith in us.
Unity is strength when there is teamwork and collaboration wonderful things can be achieved.  We teach them the knowledge of how we should travel with passion and maturity toward the new world without ever forgetting the ancient values and heritage.
SMT.D.MAHESWARI       
PRINCIPAL