Principal's Message
Home
/ Principal's Message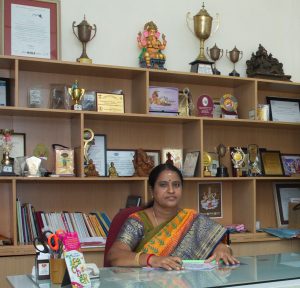 Education is a window to the world and a powerful weapon to eradicate the evils of the society bringing in the winds of change to move towards progress.  Our moral responsibility is not to stop future, but to shape it…. to channel our destiny in humane directions and to ease the trauma of transition .
Our goal at Bharatiya Vidya Bhavan is to provide an enriching, engaging and challenging curriculum that will prepare students for success.
Students should pursue an excellent academic performance and gain adequate knowledge that will help them in the future.
EDUCATION  is the most powerful weapon, which you can use to CHANGE THE WORLD.
The very essence of education is concentration of mind.  We need to teach students life skills which are necessary to deal with life's  challenges.
In this era of cut throat competition, it is of paramount importance to impart an integrated education to future citizens of the Nation for successfully facing multitasking.  Therefore, we lay special emphasis on both co-curricular and extra curricular activities providing students an edge over others to be a leader in their respective field of activity.
We can foresee a still brighter future for our school; with the dedicated efforts of our committed teachers, involved parents, deeply committed management and most of all the intelligent and sensitive students.  We shall continue to attain our two fold mission to provide quality education and character development of our children.
We try to understand and work with each child , and we firmly believe that, it is our responsibility to work towards the holistic development of each individual.
At this moment, it is our duty to thank the Chairman of Bharatiya Vidya Bhavan Shri. B K Krishnaraj Vanvarayar, who was always been a pillar of strength and support, ever guiding us in all our endeavors and encouraging the teachers and students to work to the best of their abilities.
SMT.D.MAHESWARI       
PRINCIPAL