Chairman's message
Home
/ Chairman's message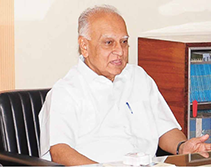 The need of the hour is to synergise Human Values in all our endeavors to reach the rightful destination. Bhavan, over the decades has just been addressing this one point agenda through its various activities. One such thrust area was education. Bhavan has hundreds of schools spread over the length and breadth of the Nation providing Holistic Education to Lakhs of students. Swami Vivekananda's concept of Man Making Education had been its guiding principle. A meaningful system of education should help the student to manifest the Divinity in him to emerge not only as an Employable Candidate for a successful career but as an Enlightened Citizen to contribute his might for the huge task of Nation Building. Both the Bhavan schools of the Coimbatore Kendra balances Academic Excellence and Human Excellence with a view to Empower every student to enrich the Nation.
The principal and the band of committed teachers work with utmost zeal to achieve this ultimate goal. The students are provided ample opportunities to make education enjoyable and exciting. Personality Development and Career guidance are being integrated as an integral part of education.
I compliment the Principal, the Faculty, the Parents and the Non-teaching Staff for their whole-hearted contribution for the overall well-being of the school.
May the Lord give us the strength to pursue the lofty ideals of the Bhavan.