Bhavan's Publications
Home
/ Bhavan's Publications
The Bhavan's Book University, Kulapati Munshi's most luminous brain child. It is the most important constituent of the 500 institutions in the world bearing the name of Bharatiya Vidya Bhavan.
It has brought into book form all that is best about India, old and new; on its culture, art, history, and legend, myth and epic and the literature of most Indian languages.
The Bhavan's Book University has so far published over 2,000 titles all intended to promote education, art, culture and ethics. Its primary aim is to publish books and periodicals.
Started in 1951, Bhavan's Book University has grown from strength to strength. Bhavan publications have received wide welcome both in India and abroad and the sales have now crossed over thirty-two million copies.
When the Bhavan's Book University's sales touched the one-lakh mark in 1957, Shri C.Rajagopalachari (Rajaji) said: "The Bhavan's books and periodicals devoid of sex, smut, sensationalism, crime and gossip are selling so well, is proof positive that the soul of India is till sound." Prime Minister Pandit Shri Jawaharlal Nehru said "Bhavan has made publication history in India" and predicted that the Bhavan will herald a much needed "Book Revolution".
Kulapati Munshi wrote in his preface to the very first book, Mahabharata authored by Shri C.Rajagopalachari: "This common pool of literature, it is hoped, will enable the reader, Eastern or Western, to understand and appreciate currents of world thought, as also the movements of the mind in India, which though they flow through different linguistic channels, have a common urge and aspirations".
Renowed poet Shri Gulzar is proud of his long association with Bharatiya Vidya Bhavan. He says, when he started educating himself he began with "Bhavan's publications in general and Ramayana and Mahabharata in particular".
Eminent Kannada writer and Jnanpeeth Awardee Dr. U.R. Ananthamurthy said that he understood the India, of the past, from the Bhavan's Book University series.Kulapati Munshi wanted the Bhavan to produce an exhaustive and authentic history of India and its people and their culture. Accordingly, the Bharatiya Itihasa Vibhag was established in 1944 to bring out 'The History and Culture of the Indian People' covering all aspects-spiritual, cultural, political, social and economic-of life of the Indian people from the Vedic Age to Modern times.
This eleven-volume magnum opus has acquired international reputation and has been hailed as an outstanding achievement of modern Indian scholarship. It has found a place in all major libraries of India and the English-reading world as an authentic work of reference. All the volumes have gone into several editions and more than 50,000 sets have already been distributed.
Young hearts and minds not yet warped by the harsher realities of life and the deadening climate of an age characterised by technology and soulless materialism; have to be provided with the right mental and spiritual food and nourishment. They should be enabled to learn to appreciate and absorb our tradition, history and culture. Dr. Munshi felt that the first concrete step in this direction would be to prepare a series of graded Culture Course Books for Standard I to X, suited to the calibre and assimilative capacity of different age-groups among our children. All the books have gone into several editions and more than a lakh sets have already been distributed.
Bhavan's Journal, the English fortnightly, devoted to life, literature and culture started in 1954 is now globally recognized as one of the most widely read magazine of our country; having a vast and enlightened readership. The blending of extracted nectar with the delicacies of contemporary literary diet has what made Bhavan's Journal a unique, presenting all that is best in India's culture, art, spiritual and philosophical thought.
Bhavan's Gujarati monthly Navneet Samarpan also covers articles on life, literature and culture. Highly eminent authors and poets contribute to this magazine. Navneet Samarpan won the prestigious Gujarat State Award for the best Gujarati monthly.
Bhavan's Navneet Hindi Digest, a prestigious monthly magazine of Indian literature and culture. Navneet Hindi has been considered as a niche publication propagating cultural ethos. Two more periodicals in this genre, published for over fifty years are (i) Bharatiya Vidya – an Indological Research Quarterly in English and (ii) Samvid – Sanskrit Quarterly.
Bhavan's Pulications are available for sale through its Kendras and select outlets of IBH Books and Magazines Dist. Pvt. Ltd.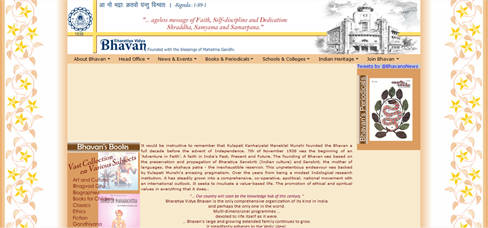 www.bhavans.info